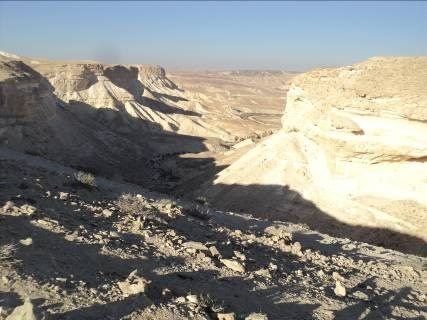 The Judean and Negev Deserts at their Best:
The Tse'elim canyon and Masada;
The three Makhteshim ("craters");
The canyons of Yemin, Hatira, Aqev, Hava and Barak;
The Kassui sand dunes, and much more!
The Israel National Trail (INT) crosses the country from the Israeli northern border with Lebanon, to the southern one with Egypt. It is over 1040 kilometers long and goes through a variety of landscapes.
This year I am offering a 26 days / 450km guided trek on the most remote section on the trail.
Participants can choose from hiking the whole section, or joining partially, from one day and up.
A vehicle will transfer our gear between the campsites, so we only need to carry a day pack. In the evenings we will enjoy field-gourmet dinners with red wine.
We will camp outdoors, and every few days arrange a shower. Laundry services will be offered to two-weeks-and-up participants on day 14.
The price is 300 shekels per day, If you do the complete section the daily cost will be 250 shekels.
The Itinerary:
Day 1: Arad to Zefira pool;
2: Above Tse'elim canyon to Masada;
3: Visit to Masada, walk above Rahaf canyon towards the Dead Sea promenade (Optional bathing at the Dead Sea);
4: Wadi Rom Yizrakh and Peratsim;
5: Wadi Peres;
6: Wadi Tsafit, Small Makhtesh;
7: Tsafir fort to Yemin plain;
8: Wadi Yemin Wadi Hatira and the "Big Fin";
9: Mt. Karbolet Wadi Afran;
10: Wadi Zakuf, Wadi Talul;
11: Ein Aqev, Ein Ziq.
12: Wadi Hava.
13: ramon Cliffs to Mitzpe Ramon.
14: Crossing Ramon Makhtesh to Wadi Gvanim.
15: Karbolet Harerim to Gev Geled (Holit).
16: Wadi Tzvira and Eshborn to Sapir.
17: Tzofar to Barak campsite.
18: Wadi Baraq and Vardit, ending at Zihor junction.
19: Wadi zihor-Hayoun pools;
20: Hayoun pools- Kassui dunes;
21: "Leopards shrine" to Shaharut;
22: Milhan Wadi and ascent to Kibbutz Elifaz;
23: Timna Park to Wadi Raham;
24: Wadi Raham Mitzpe Amram;
25: Wadi Shkhoret, Lost valley, Wadi Netafim;
26: Wadi Gishron to Mt. Tzefahot and Eilat.
For more information and registration please contact me at joeloren@gmail.com, +972-523551686.
What to bring:
I.D. card or passport, health insurance;
4.5 litres of water;
Hat, hiking shoes, sandals for the evening,
Kitbag for the evening gear, comfortable day pack;
Good sleeping bag, thin mattress, tent;
Warm clothes for the evening;
Towel, washing stuff,
Toilet paper and matches;
Flashlight + extra batteries;
Insect repellant;
Sunscreen;
Personal first aid and medications, spare glasses;
Snacks;
Plate, soup bowl, spoon, fork, knife.