Featuring: The Jordan River tributary and main stream, Mt. Meron, Tabor and Carmel, Wadi Dishon, Amud and Zippory, Ramim, Arbel and Yavne'el cliffs, Caesaria Beach and much more!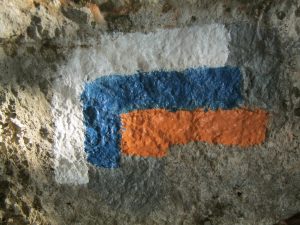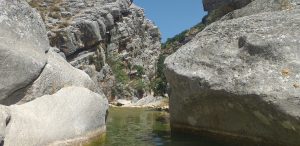 The Israel National Trail (INT) crosses the country from the Israeli northern border with Lebanon, to the southern one with Egypt. It is over 1040 kilometers long and goes through a variety of landscapes. This year I am offering a  12 days / 250km guided trek for fit hikers, on the northern section, from Dan to Caesaria. Participants can choose from hiking the whole section, or joining partially, from one day and up. Priority to participants of one week days and above. A vehicle will transfer our gear between the campsites, so we only need to carry a day pack. In the evenings we will enjoy field-gourmet dinners accompanied with red wine. We will camp outdoors with no facilities. Participants who would prefer to stay in country lodgings can be assisted in choosing the best options regarding the trail, but will need to make their own reservations and transportation arrangements
The price is 300 shekels per day, If you hike 10 days or more your daily cost will be 250 shekels.
 The Itinerary:
Day 1: 9:00 pick up from the central bus station in Kiriat Shmona, hike ftom Dan to Ramim Cliff;
2: Wadi Kedesh, Nabi Yosha, Keren Naftali;
3: Wadi Dishon;
4: Mt. Meron, Wadi Meron, upper Wadi Amud;
5: Lower Wadi Amud, Migdal;
6: Arbel Cliff, Jordan River;
7: Wadi Yavne'el, Sirin plateau;
8: Mt. Tabor, Mt. Deborah;
9: Mt. Yona, Zippory, Ka'abia;
10: Wadi Zippory, Mt. Carmel;
11: Wadi Oren, Oren forest.
12: Ramat Hanadiv, Jisr A-Zarka fishermen village, Caesaria Aqueduct.
For more information and registration please contact me at joeloren@gmail.com, +972-523551686.
What to bring:
I.D. card or passport, health insurance; 4.5 litres of water; Hat, hiking shoes, spare shoes, sandals for the evening, Kitbag for the evening gear, comfortable day pack; Good sleeping bag, thin mattress, tent; Warm clothes for the evening; Towel, washing stuff, Toilet paper and plastic bags for collecting the used ones; Flashlight + extra batteries; Insect repellant; Sunscreen; Personal first aid and medications, spare glasses; Snacks; Plate, soup bowl, spoon, fork, knife.